Birthday parties come once a year and it is understandable when your kids want to celebrate it with gusto. While it's easy to just step into a store and purchase all the decor you need, you could choose to make your own decorations with your child's help. It can be a fun activity for a family to celebrate a birthday party and unleash your creativity as well.
So, here are a couple of simple things you can make to get the party started:
Tassel Garland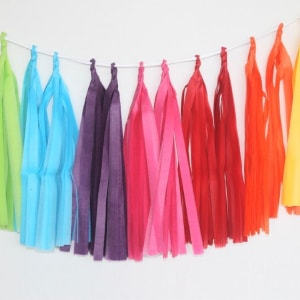 Here's a simple piece of decor that could be hung from the corner of your room or as a garland on the walls. All you need is a pair of scissors, crepe paper (various colours), twine or string, decorative tape, and Camlin White Glue.
Start by cutting the crepe paper into strips. You can choose to use one colour for the whole bunch or you can use multiple colours if you like. At about an inch from the top, fold each strip in half (width-wise). Gather up the strips and use the glue to stick each folded end to each other in a bunch. You could also use a string to tie them off but be careful not to rip the paper.
You can hang them together as a tassel garland in a row or place them in specific places in the room to add some colour.
Picture Party Supplies
This could be a great way to make your party more personalised for your child and also create some personalised giveaways for the guests. You need plain party supplies like goodie bags, napkins, Camlin White Glue, Camel Sparkle Colours, paper cups, and plates.
Find a good, clear picture of your child that you can edit with a little Photoshop or Paintbrush on your PC. As far as possible, make sure it's a plain white background. Take a picture of your child against a plain background if you don't have one on hand.
Resize the picture of your child's face and place it in a circle, star or shape of your choice. Print out multiple images on a sheet and cut them out. Stick the images on all of the party confectionaries like the paper glasses, plates or giveaways for a personal feel.
You could do the same for the guests who attend so each child in attendance will have their own personalised giveaways.
Paper Bag Flower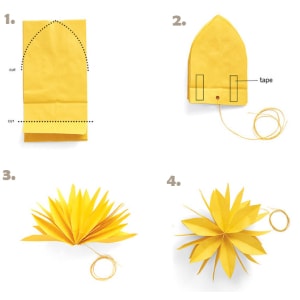 This is a colourful paper bag in another light. It is simple to do and your kids will love it. What you will need is scissors, a string, a hole punch, light-coloured paper bags of any size, double-sided tape, Camel Water Colours, and brushes.
Fold the bottom of the paper bag inward and cut just above the lower fold in order to remove the lower portion (bottom). Cut the top of the bag in a shape that looks like a dome (see image). Make a hole about half a centimetre from the bottom, in the centre.
Repeat these three steps with the remaining bags. Stick the double-sided tape to the bottom portions of each bag, as shown in the image. Create a stack of all the bags by placing them one on top of the other stuck to the tape. Pass the string through the hole in the stack and tie a knot.
When you pull the top and bottoms together you should have a nice little flower. Stick the two ends together to close it off and you're ready. You can now hang this from anywhere during the party and use Camel paints to decorate it in a splash of colours.
Did you try out any of these DIY ideas for fun birthday decor?
Share your experience with us in the comments below.
Comment added
Comment updated
Comment deleted
"
"You don't choose art. Art chooses you."- Kanak Sirasya