In the last few years recycling waste materials has become extremely important. However, while several developed countries like US, Germany and Japan account for some of the highest waste paper recycling percentages, India lags far behind. This is mainly because of the limited knowledge and access to the benefits of recycling and recycling bins.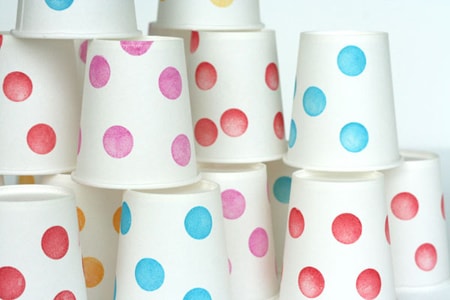 But paper recycling can be made so much more fun if you know how. Here are some creative ideas for which you can use paper cups instead of simply chucking them out.
Paper Cup Lamp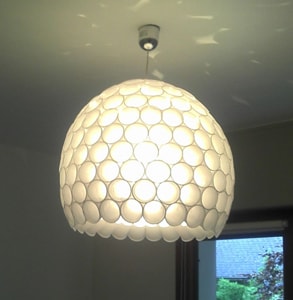 You'll need lots of paper cups, a stapler, a bulb, an electric wire and socket, and a sharp pen. Start by stapling three cups together, as the base around which the lamp is built. Make a small hole in the base of the last cup to allow the socket wire to pass through. Knot the wire so that the socket hangs below the opening of the cup.
Fix the bulb in the socket and attach that last cup to the rest of your paper lantern. Hang this beautiful lantern to the ceiling and you are good to go. If you're not familiar with electric work, just ask someone who is.
Paper Cup Daisies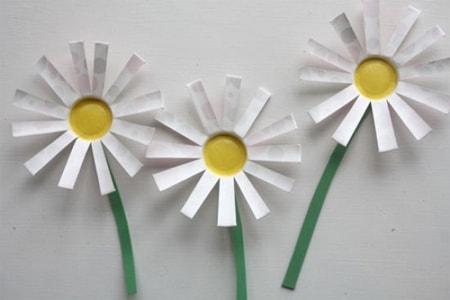 Use several used paper cups (washed and dried), the yellow shade of Camel Poster Colours, scissors, and glue. Paint the bottom of the cup on the inside yellow and allow it to dry. Once dried, create the petals by cutting strips from the top to the base.
Flatten these petals down and make a slim flower stem with green paper, then stick it to the back of your paper daisy. These paper cup daisies are great for brightening up your room.
Paper Cup Animals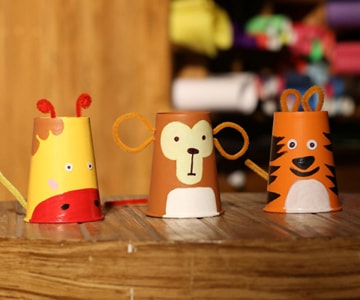 You'll need paper cups, Camel Artist Acrylic Colours, Camlin brushes, scissors, and white glue. Place the paper cup upside down so that the base forms the animal's head. Paint the cups in different colours depending on the animal you are making – yellow for a chicken, brown for a cow, etc.
Use two coats if you are using poster paints and one coat if it is acrylic. Once dry, draw and then paint in the details like eyes and nose on the cup. Next, cut out the right type of ears on chart paper and stick them on the cups. You can also use thick thread or wool for tails.
With these paper cup articles, you can spread the message about recycling paper to other people when they come over and compliment your cute home décor.
Which of these ideas did you try out?
Share your experience with us in the comments below.
Comment added
Comment updated
Comment deleted
"
"Art should comfort the disturbed and disturb the comfortable."- Banksy