Father's Day is the perfect time to show your dad how much he's loved and appreciated. Instead of buying him a watch or a cool gadget, a DIY gift comes straight from the heart and makes a better gift for the man who has dedicated a large portion of his life to caring for you. So, here are some simple and sweet DIY gifts you can make for him this Father's Day.
Father's Day Photo Frame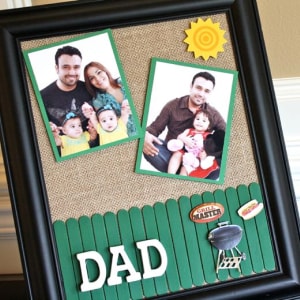 What you will need:
A photo frame
Camlin White Glue
Your favourite photograph of you and dad
How to make it:
Use your own handmade art – paper butterflies, flowers etc. and stick them on the frame with some glue for a personalised look.
Draw or cut out the words 'World's Best Dad' or anything else you may like, and stick it on the frame.
When it's dry, slip your selected photograph in place and you're done.
Stationery Holder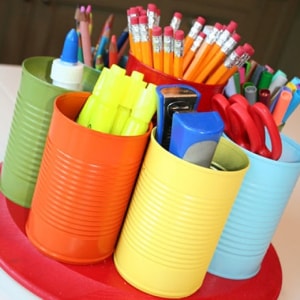 What you will need:
Two or three empty metal/plastic containers
Camel Student Poster Colours
Chart paper
Camlin White Glue
Binder clips
How to make it:
Cut out strips of colourful chart paper and stick them around all the containers with glue.
Paint some designs or patterns on the chart paper. You can also paint your dad's favourite phrases or a special message from you to him to make it more personal.
Once the containers are dry, use binder clips to fix them together and your stationery holder is ready for use.
Personalised Dad's Mug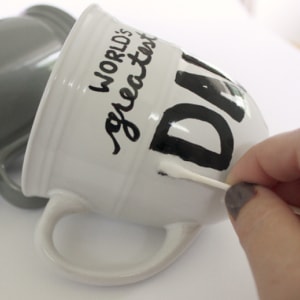 What you will need:
A plain coloured mug (preferably white)
Camel Artists Acrylic Colours or Camlin Permanent Markers
Camlin Brushes
How to make it:
Make sure the mug is dry.
Use the colours or markers to create fun and interesting designs on the cup.
You can also use stencils to paint the mug or to write a message on it.
Allow the mug to dry overnight.
If you plan to use several colours, allow the first coat of paint to dry before applying the next.
Painted T-shirt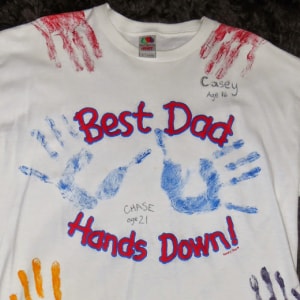 What you will need:
A plain, single-colour t-shirt
Camel Fabrica Acrylic Colours
How to make it:
Ensure that the t-shirt is wrinkle-free.
In the centre of the t-shirt, paint the letters "World's Greatest Dad".
Create designs all around the lettering.
Leave it overnight to dry.
For multiple colours, let each coat of paint dry before adding the next.
Did you try out any of these gift ideas?
Share your experience with us in the comments below.
Comment added
Comment updated
Comment deleted
"
"Every colour has a purpose. An artist must keep this purpose in mind while handling it to get the most of it."- Sandeep Khule