If you live in a home with creative children or, better still, have your own craft corner at home, you're bound to have a few bits and pieces of crayons that have seen their best days go by already. Instead of simply throwing these into the bin, why not try and recycle them into items that are as useful as they are creative!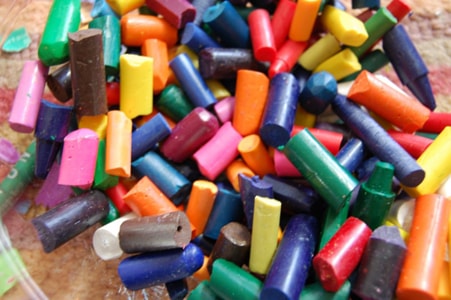 Here are a few things, of many, that you could make out of your used and old crayons.
Chunky Crayons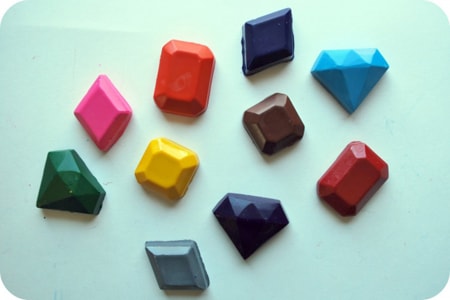 This is the easiest thing you could do to breathe new life into your old wax crayons. Simply chop the leftover crayons into tiny bits and place them in a silicon or metal mould. We recommend using a silicon mould as these make it easier to remove the final product.
Pop the filled mould in the microwave and heat until the crayons are melted. Once done, place the mould overnight in the freezer. The following morning, turn the moulded crayons out. These chunky crayons make a fantastic gift item for children.
Colour Block Candles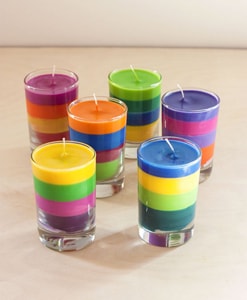 You'll need wax chips, a block of old uncoloured wax crayons, a glass tumbler, and candle wicks. Divide the wax according to the number of colours you want in your candles. Melt one portion over low heat and add a few bits of the same colour crayons to the melted wax. Once melted, let it cool for a bit.
While it's cooling, stick the candle wick to the bottom of the glass. Pour a little of the coloured wax into the glass while keeping the wick supported. Set this in the freezer before repeating the same process with the other colours till you reach the top of the glass. You can let this stand as a candle within the glass or separate it from its mould to have a standalone candle.
Crayon Play Dough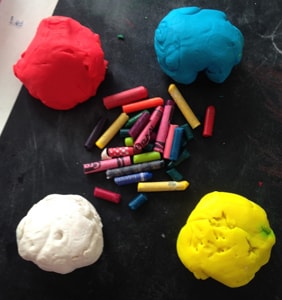 This fantastic play dough is great for kids to test out their modelling techniques and skills. Simply take 1 spoon of oil and melt about 2-3 crayons of the same colour over heat. Once melted, add ¾ cup of water and continue stirring. Once blended, add 1 cup of flour, ½ cup of salt, and 1 spoon of baking powder.
The salt helps preserve the dough and reduces the stickiness, while the baking powder makes it smoother. Cook over low heat till it pulls away from the sides of the vessel. Let it cool and then knead it to a smooth consistency. Repeat this with the other colours you have.
And there you have it! These are just three unique ideas to put your old crayons to good use.
Have some more ideas to reuse wax crayons?
We'd love to hear them in the comments below.
Comment added
Comment updated
Comment deleted
"
"Art enables us to find ourselves and lose ourselves at the same time."- Thomas Merton