Camlin has been working consistently on making learning fun for children through products, communications and also through various events and activities. Apart from conceptualising and conducting our own activities while promoting a fun way of learning, we also support other such initiatives. One such initiative is the Wall Art Project by an Indo-Japanese group of artists which was to paint classrooms in rural schools in their own individual styles. This was conducted with assistance from volunteers to infuse it with imagery which can help ignite a spark in the imagination of the students.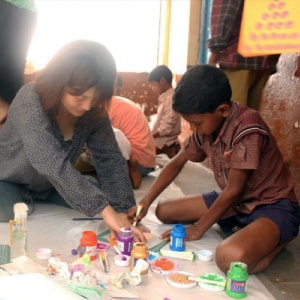 The Wall Art Project was started in a small village in Bihar and then moved to Ganjad in the Palghar district, near Dahanu which was made famous for its renowned Warli artists in 2012. In 2014, the project went to a small village school in Ladakh and in 2016 it returned to Ganjad. The group has painted a couple of rooms in a Zilla Parishad school and transformed them into a dreamland. Kokuyo Camlin is proud to be associated with the project by providing the required art material for it.
The first room painted by Ookuni San has a raging forest full of wild animals along with rich flora and fauna. When you really look into the details, you'll notice a sequence that allows you to keep moving from one story to the next. It's quite epic, both in terms of size and richness.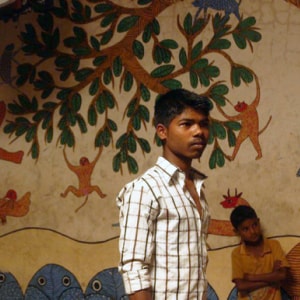 The other room is full of abstract forms in vivid primary colours. These designs are so rich and vibrant that we're sure the rays of colours would fill thousands of shades of imagination in the minds of students studying there. The artist had also conducted a workshop with the children during which they were given a pack of Camel Oil Pastels and were asked to work with the artist on paper pasted over the entire floor.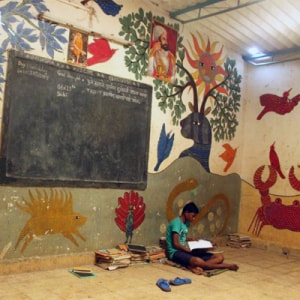 The adjacent room, painted by famous Warli artist Rajesh Kumar from the same village, is filled with a large river, forest, villages, cities, and factories full of inhabitants bustling about with their daily lives.
In another nearby room called the 'Home of Envelopes', visitors are encouraged to decorate envelopes using stencilling and other techniques and dedicate them to an unknown, unseen friend. In exchange, the visitors would receive an envelope made by children from Japan.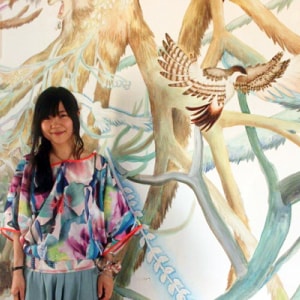 And that is not all; the visiting artists have created much more than paintings on the walls. They have created a wood-fired oven, a seed bank, a café, a video room, and more. These are open to everyone.
Here are the excerpts of our interaction with Hamao San:
What are your objectives for the Wall Art Project?
To make the classrooms more inviting and inspiring for children.
Have you found the desired change among the students?
The enrolment, attendance, and engagement have gone up among the children and results have also improved. The children now love to draw and paint.
How many artists have worked on the project in 2016?
More than 40 artists have visited from Japan for the project and many local people and artists have also contributed.
You have used Camel Colours for this project. How do you find them?
Thanks to Kokuyo Camlin for donating art materials which helped us in the completion of this project. The artists working on the project found all the materials similar to what they have been using back home in Japan.
What are your future plans?
In June 2016, we will be holding a Global Forest Meeting in Ganjad and, in June 2017, we will conduct a Wall Art Festival in Ladakh.
Did you find this article interesting?
Share your thoughts with us in the comments below.
Comment added
Comment updated
Comment deleted
"
"Don't be conscious.There will be someone, somewhere who will appreciate your work."- Varsha Nair