Look at a child's drawing of 'My Happy Family' and you will realize that drawing the human body is not child's play. Surprising isn't it? We look at ourselves in the mirror every day. We interact with people of every size and shape. Yet, drawing a perfect imitation of the human body is one of the greatest mysteries known to us all.
While many artists enjoy drawing landscapes, others are fascinated with the human form. Leonardo da Vinci was one of the masters of human anatomy in art history, having spent years of discipline learning and practising the art. Here, we will attempt to demystify the process of human figure drawing for beginner artists in a few easy steps.
Step 1: Plan the drawing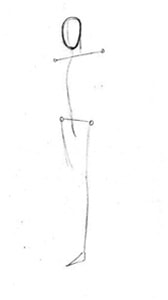 First, draw a few vertical and horizontal lines, making a rough estimate of the proportions of the body. Measure the amount of space the head would occupy, as well as the height ratio of the head to the body height.
Keep in mind that, for an average human figure, the body height should be 7 and a half times that of the head. Lightly drawing 7 horizontal lines at this stage, for the relative placement of body parts, will help to ensure that you get the proportions of the human figure correct. The armpits would form the second line below the head, the hips would be the third and so on.
Step 2: Add basic shapes for body parts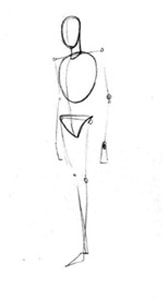 Use circles, ovals, triangles and rectangles to add more substance to your vision of the human figure. For instance, if you are drawing a fat man, you could begin by drawing a big oval for his torso. If you are drawing a short girl, you can combine a series of small ovals and circles.
Step 3: Sketch an outline of the basic structure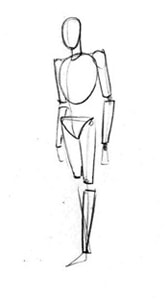 This step is important as you need to draw the figure in the most realistic way, paying attention to the angles and curves of each part of the body. Stronger pencil strokes can be used for more definition, for instance, to show angular shoulders. Softer lines can be used to illustrate the feminine curves of the hips.
Step 4: Finalize the drawing and enhance with details
Once you are satisfied with the way your human figure drawing looks, you can use a pen to finalize your drawing. Then, add in details like clothes and accessories to bring the figure drawing to life.
Did this article help you learn something new?
Share your thoughts with us in the comments below.
Comment added
Comment updated
Comment deleted
"
"Artists are just children who refuse to put down their crayons."- Al Hirschfeld