A multi-sensory experience is what you give your kids when you let them work with clay. Most children love the feeling of playing with mushy clay. Allowing them to get a little messy while expressing themselves with the medium can be quite therapeutic for them. In this post, we're going to give you a few ideas on how you could let your kids explore their inner creativity with clay and colour.
Clay house for kids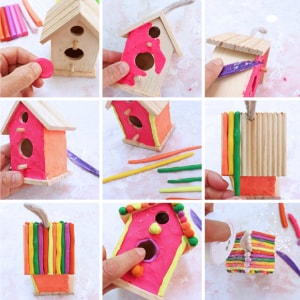 The instructions are simple, you'll need a few things to get started - Camlin Modelling Clay, Camel Fabrica Acrylic Colours, and small wooden birdhouses that can be purchased from the street or any store.
Step 1: Open up the Camlin clay and make it soft by kneading it in your hands.
Step 2: Stick the clay onto various parts of the birdhouse. You can get as colourful as you like, don't hold back.
Step 3: Decorate the house with Camel Student Oil Pastels or Camel Fabrica Acrylic Colours to add a little more pizzazz.
Then, you're done! Try to keep these birdhouses out of the sun since the heat could make the clay hard and warped. They're great for a windowsill in the shade or as a piece of decoration around the home.
Clay sculptures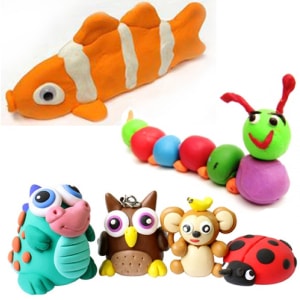 When it comes to making sculptures with clay, you need to follow the steps given below.
Step 1: First, let the child wedge the clay. What this means is, ball it into a big piece.
Step 2: Then, roll it up tapping one end and then the other to form a long snake-like shape.
Step 3: Make a roll in different colours. This will make it easier for kids to break pieces off from each roll and use it to create colourful little sculptures and figures.
To make it easier for your kids, you can wet their fingers and the pieces could be rubbed between them. They can then join different pieces together and blend them together to form shapes.
Clay beads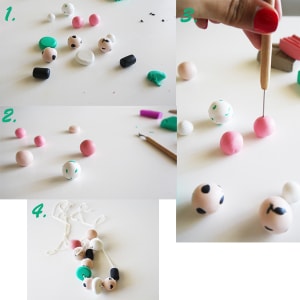 Here's a great idea for your child to create some very interesting, wearable jewellery that would also make a great gift for a loved one. It's one of the easiest crafts your kids can make with little or no supervision. Let's take a look at the steps to design wearable jewellery.
Step 1: The first step is to wedge the clay and create rolls of different colours.
Step 2: Next, make small pieces of each colour (or a single colour) and form tiny balls of each which could also be slightly flattened.
Step 3: Then, punch a small hole through each of the little balls and thread a string or section of twine through them. You can make each section long enough for a necklace or a bracelet.
Step 4:The final step is to let the clay dry completely and then tie off the section.
Voila! You've got some very trendy looking faux jewellery. Use the Fabrica paint to add some glitter or you could apply a little Camlin Gum and Paste over each bead and sprinkle some glitter powder over them.
Did you try any of the clay art activities with your kid?
Share your experience with us in the comments below.
Comment added
Comment updated
Comment deleted
"
"Learn the rules like a pro, so you can break them like an artist."- Pablo Picasso