Rajasthan has always been an art-active state with a rich history and vibrant culture. The city of Jaipur, known the world over as the Pink City, also happens to be a global tourist attraction that has a reputation for being an art hub. A new leaf has been added to the voluminous art history of the Pink City as a recent campaign saw 10 TATA NANO cars being painted by professional artists from across the country.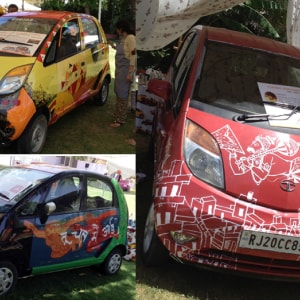 The project CARTIST, which was the talk of the town, was executed with the active support of Kokuyo Camlin. The event was inaugurated on April 16, 2016 by the honourable Chief Minister of Rajasthan, Ms. Vasundhara Raje Scindhia. The event concluded on the 19th of April. The artists used Camel Artist Acrylic Colours to paint the iconic NANOs with vivid images at the event held on the lawns of Narayan Niwas, a heritage boutique hotel in the Pink City.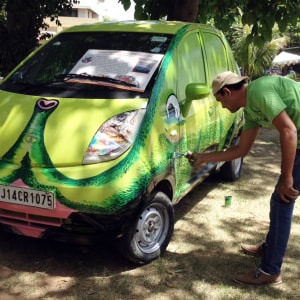 The project was curated by the famous art critic Mr. Johny M. L. Well-known artists like Ms. Kanchan Chander, Siddharth, Sudhanshu Sutar, Raj More, and Farhad Husain added a dash of their style to the cars. There were two husband and wife teams among the artists who painted the cars. While Sudhanshu painted Gandhiji descending from the heavens, Raj More depicted superheroes flying over Jaipur led by the first and original superhero, Hanuman. One car had flowers all over, another featured fruits, and others included people painted on it and abstract patterns.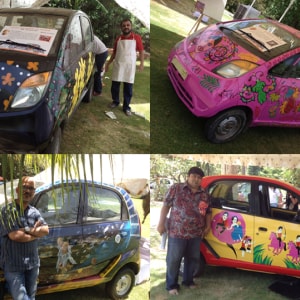 The excitement about the Camlin CARTIST project drew in large numbers of students from nearby schools, who came to visit the venue and watch this unique project unfold.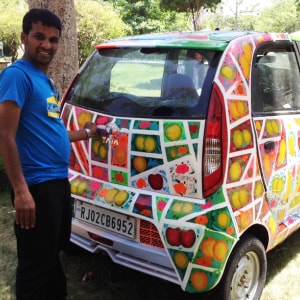 The artists who have been using Camel Artist Acrylic Colours expressed their delight in using this trusted medium on the new surface. Local media covered the event exhaustively and it became the talk of the town.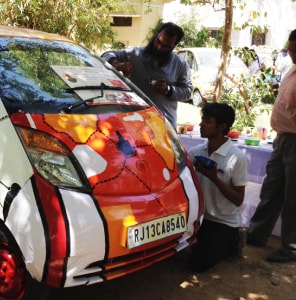 Did you find this article interesting?
Share your thoughts with us in the comments below.
Comment added
Comment updated
Comment deleted
"
"Every colour has a purpose. An artist must keep this purpose in mind while handling it to get the most of it."- Sandeep Khule