Looking for the next level of creativity? After learning how to work with pencils, brushes and even painting knives, you may feel like you have reached a new plateau of sorts in terms of creating art. Brush pens come as a saviour that promises to lift up the boredom of predictability that may slowly set in. Allow yourself to explore new territory in the world of art. There are many benefits of brush pens that you can use to your advantage in your work.
Here are some benefits of Camlin Artist Brush Pens:
For calligraphy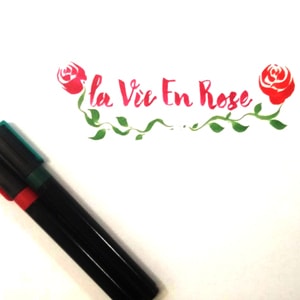 The tip of a brush pen is versatile, allowing the user to try out different strokes and styles. To get the desired outcome, all you need to do is adjust your grip and pressure on the brush pen! This makes brush pens perfect for practising calligraphy.
Blending powers
To blend the colours, layer one on top of another on the canvas. Start working on the lighter tones to the darker ones. Before you use the brush pens in your painting, experiment with them to understand the colours that go best with each other.
Variety in colours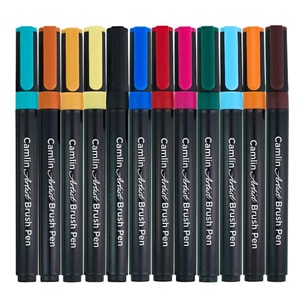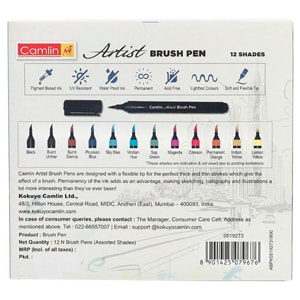 Available in a pack of 12 assorted shades, Camlin Artist Brush Pens give the artist a beautiful range in colours for their artwork.
Ease of use
Camlin Artist Brush Pens are premium quality brush tip pens made for innovation in creativity. These brush pens give the user the benefit of a translucent water colour effect through a pen that is easier to use. You can use them without the need for water, a palette or a brush, making the process of painting less messy.
Brush-like strokes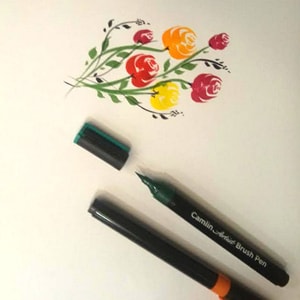 Camlin Artist Brush Pens come with a flexible tip that gives the perfect thick as well as fine and thin strokes, giving the effect of a brush.
Inked
The ink is permanent once used on the paper, adding to the advantage of storing the painting, making calligraphy, sketching and illustration interesting and long-lasting artwork.
Some other features of Camlin's Artist Brush Pens include:
Pigment-based ink
UV resistant
Waterproof ink
Permanent imprint
Acid-free
Lightfast colours
Soft and flexible tip


Simply allow yourself to be inspired by nature and explore your imagination on paper with your brush pens. Once you practice, you will get the hang of it!
Did you find this article informative?
Share your thoughts with us in the comments below.
Comment added
Comment updated
Comment deleted
"
"Art is not what you see but what you make others see."- Edgar Degas