Did you know that painting actually brings about a soothing effect on the human psyche? One does not have to be an artist to be able to experience the benefits of art and painting. In this blog, we introduce you to the concept of intuitive acrylic painting.
What is intuitive painting? In simple terms, it is painting in the flow. It is a practice that teaches you to allow your brush to take you by surprise as you go with the flow. Painting like this can be a beautiful and emotionally satisfying experience.
What you will need:
Camel Artist Acrylic Colours
Camlin Brushes
Palette
Camel Canvas
Relaxing music


Now that you know the material you will need to start, please keep in mind that you also need to keep your heart and mind open. Just let the art flow through you. Play your favourite music and begin!
Here are 5 easy steps for intuitive painting
Step 1: Draw with a reference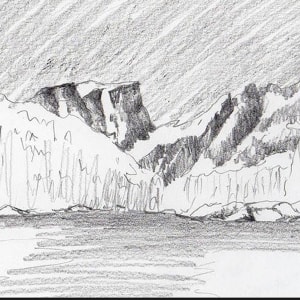 Pick the subject of your art piece and start working on your painting. It could be flowers, fruits, butterflies or anything else that catches your fancy. Trust that it is okay if you don't get the shapes perfectly correct. Draw how you perceive the subject – that's what intuitive drawing is all about.
Step 2: Colour with your imagination
Pick the colours that first catch your eye. Don't think too much about which colours you are using. Watch yourself create a landscape out of your imagination and allow yourself to surprise yourself.
Step 3: Tell a story
Gradually, as you work, pay attention to the story forming on the canvas you are painting. Don't be afraid to explore it.
Step 4: Create contrasts
Use colours that create a contrast. Remember, the more the contrast, the better your subject will stand out while also giving shape to your story.
Step 5: Don't forget to be playful
Remember the music we talked about earlier? Don't forget to utilize it to the fullest, to create a good mood with your favourite music!
Once you are done with your painting, allow it to dry. Now, give yourself a little pat on the back for having done a good job! You have successfully completed a creative exercise that was not only meant to help you ease your anxiety and learn how to do intuitive drawing and painting, but also a form of meditation. Bring your best pencil, drawing book and other stationery products out and give intuitive painting a shot.
Did you try our tips on intuitive painting?
Share your experience with us in the comments below.
Comment added
Comment updated
Comment deleted
"
"An artist cannot fail; it is a success to be one."- Charles Cooley